Arif is a San Diego boy from Clairemont. He appreciates my Keil's bag and Sunset Bowl. His favorite burrito is the 'California Burrito' from El Cotixan in San Diego. He has hosted many a fine food event at his RULIN' PAD including my 30th birthday, Thanksgiving and SUPERBOWL. I consider him the resident expert in American Junk Food, Rosti and Zuri-Kebab-Stands. He also picked out the best coloring book EVER and has been my coloring book buddy on occasion. Most importantly...he discovered the Karim-SLAMMA!
Arif the Karim Slamma
and Denner Pizza Philosophy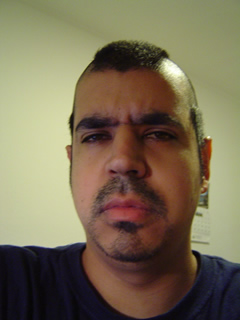 "I pity the fool who don't like my pizza"
TO BE CONTINUED: Arif is writin up his Slamma secrets RIGHT NOW.
What's in the name? Well Arif IS properly Arif Karim. At a Swiss Chemical Society meeting in Lausanne there was a random poster of the rapper "Karim Slammer". 'Twas FATE.
A problem: The grocery stores in Zurich have terribly inconvenient hours making it difficult for the working-joe to keep the fridge stocked. This is especially challenging for those who don't do much advanced meal-planning and inevitably find themselves in a critical NEED FOOD NOW situation at a time when everything is closed.
***
A *special* place: The appeal of the grocery store known as "Denner" is that it is has a charmingly ghetto quality that is rare to find in Switzerland. It has tons of cheap alcohol, weird discount mystery meats and no fresh vegetables. The employees are "off" in that special special way that makes them interesting to interact with and watch.
This Denner hodgepodge deal is generally stuffed into a tiny store cram packed with stacks upon stacks of boxes and pallets full of treasures (like canned hash-browns, panties and uberpickles). The aisles of my local Denner are so small you have to walk sideways.
***
A DISCOVERY: Arif probably walked by the mystery package of what would become the Karim-SLAMMA-KRUST in the cheese section of Denner 100000000 times (it indeed looks like it could be cheese). One fine day, inspiration struck. He picked up a pack of this stuff, a pack of mystery meat and and a pack of preshredded cheese. Lucky me, this karim-SLAMMA combo was cold-chillin' in the fridge one time I was hanging out watching "Friday" and coloring.
and so the legendary Karim SLAMMA came to be...
NOW, I always have ingredients for one Denner pizza in the fridge. Whenever the the NEED FOOD NOW sensation arises I can count on the Karim SLAMMA to save the day. Thanks Arif!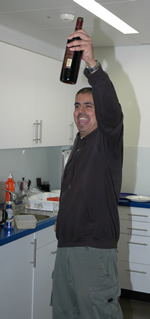 ***
BACKGROUND INFORMATION! Facts about Feeding Yourself in Zurich:
Zurich fact 1: Grocery stores here are only open M-F from 8:30am-7pm and many are also closed during lunch. They are only open till maybe 3pm or 5pm on Saturdays and are completely closed on Sunday.

I hate grocery shopping on Saturday because it is complete madness, but often find myself wishing I had something good to eat at home at 2:45pm on Saturday. Denner is the only grocery store super close to my flat, so I can runnn down the hill at 2:45pm and make it in and out before it closes at 3pm.

The ingredients for the KARIM SLAMMA are light and will fit in my pockets (you have to bring your own bag for groceries...I always forget).
***
Zurich Fact 2: No one has a car...this means you are limited by what you can/want to carry. The result of this is that most people have much less food stock-piled. Also, refrigerators are much smaller so fresh food storage is especially limited. All the ingredients for the KARIM_SLAMMA will conveniently shape-shift to fit into any ole misshapen whole of space remaining in your fridge.
Zurich fact 3: Eating out is expensive. Also, NOTHING is open 24 hours a day. It is nearly impossible find suitable post BIG NIGHT OUT. This is difficult to accept if you are a San Diego girl/boy and have been spoiled by 24 hr. Taco-Shop culture.
***
The Karim-SLAMMA only costs 6-8 CHF (the same size pizza would cost you at least 30 CHF out on the town) and cooks up in 20 minutes. It is available ANYTIME. It waits patiently in your fridge. The shelf life of the KARIM-SLAMMA crust is infinite.
***
Thanks KARIM SLAMMA.